Our
B

edrooms

In a beautiful villa, "O Jardim do Vinho" comprises five comfortable bedrooms with high quality standard. Located in a popular and all the same peaceful quarter, you will be in close contact with Cape Verde way of living. Surrounded by churrasqueiras and restaurants, you will be able to taste the traditional gastronomy.

Every room is discreetly and tastefully decorated in order to inspire the discovery of even more destinations. Itaparica, São Tomé, Djerba, Bali, Mooréa, five islands of countries and cultures different, are spread in the villa.

Opening period: from October, 1st to August, 31st.
D

JERBA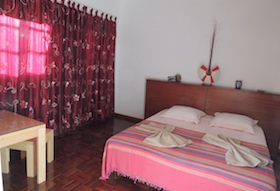 Souvenirs of Oriental and Mediterranean smell
I

TAPARICA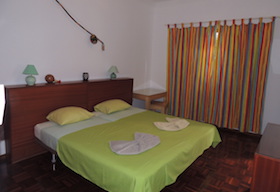 Some Brazilian colors from the bay of Salvador de Bahia
M

OOREA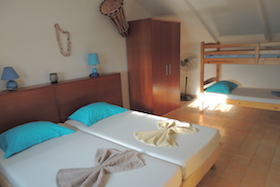 Soft Pacific blue - this room is perfect for a family
B

ALI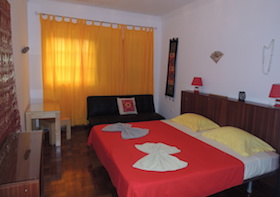 "Gods island" - get inspired by Indonesian philosophy
C

atering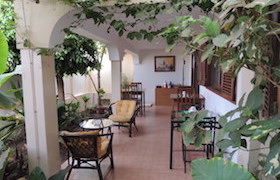 The jardim (patio) is the ideal place to find peace and serenity. Copious traditional Cape Verde breakfast is served there in the morning. The afternoon and in the evening, the patio becomes a cozy place to have a drink, a coffee or a grog, and to rest after a busy day.
You will find in Praia many bistros where you can eat delicious familial and traditional cuisine for affordable price. In addition, for your convenience, a fridge is at the disposal of all the guests in the B&B.
I

nformation

Internet : In Cape Verde, the access to Internet is limited. There is WIFI available but use it responsibly and remember that you are in holidays, so relax!